×
Note:
Registration deadline extended to 5th November
Stairway to Hell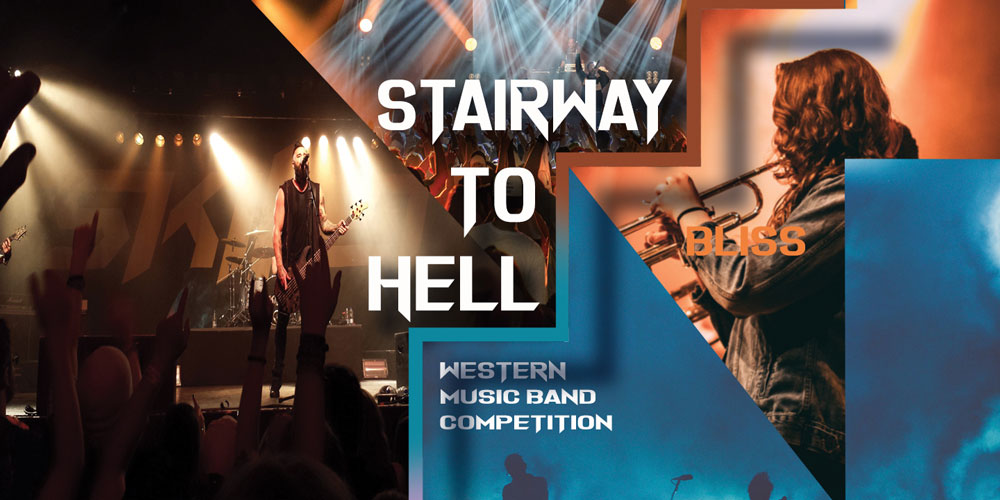 "If I were not a physicist, I would probably be a musician. I often think in music. I live my daydreams in music. I see my life in terms of music." – Albert Einstein
Who amongst us isn't an artist. We have all had our bathroom-singer moments, haven't we. The real sass though is when you can make the masses groove to the sound of your beat. The rhapsody when the audience goes berserk and screams for an encore, the adrenaline rush when the masses sway to your tunes, taps with your beats, and join in the chorus! The joy of experiencing the guitarist jamming with the drummer, the crowd getting in sync with the vocalist – that's when the setting gets electrifying! That's the euphoria of being on-stage! Well, if all along you've been imagining yourself and your band up there, then we might just have the right stage for you.
Manfest-Varchasva presents Stairway to Hell. With one of the largest audiences in attendance, make sure you have what it takes to rock their world! What are you waiting for then? Get your band together, practice your favorite routines because this does not get any bigger!! Go rock it!!
This is a western music band competition where all the songs performed must be in English.
Only registered teams will be allowed to participate. Spot registrations will not be allowed.
For Preliminary round , bands are required to upload a video of their past performance on YouTube and mail the link at the email addresses provided below.
For this round ,if the participants do not wish to upload the video on YouTube, they can send the same to the below mentioned email address.
Guidelines for uploading the video:

Mail the video to the e-mail ID:

This email address is being protected from spambots. You need JavaScript enabled to view it.


( File Naming convention MV2018_STH_TeamName)
For Youtube, once the video is uploaded, click share the link on the above email address with the same file name convention.

Timelines:

Registration Deadline: 23:59:59 hours, November 05, 2018
Video Submission Deadline: 23:59:59 hours, November 05, 2018
This is the on campus round where the shortlisted participants will perform live in front of the professional artists.
Terms and Conditions
Download event doc
Register now
Team size


(3 to 8)
Timelines
Registration deadline: 5th November 2018
Video submission deadline: 5th November 2018
Contacts
Himanki Shahu: (+91) 860 006 7276
Siddharth Gupta: (+91) 959 905 2170

This email address is being protected from spambots. You need JavaScript enabled to view it.