×
Note:
Registration closed
Young Leaders Program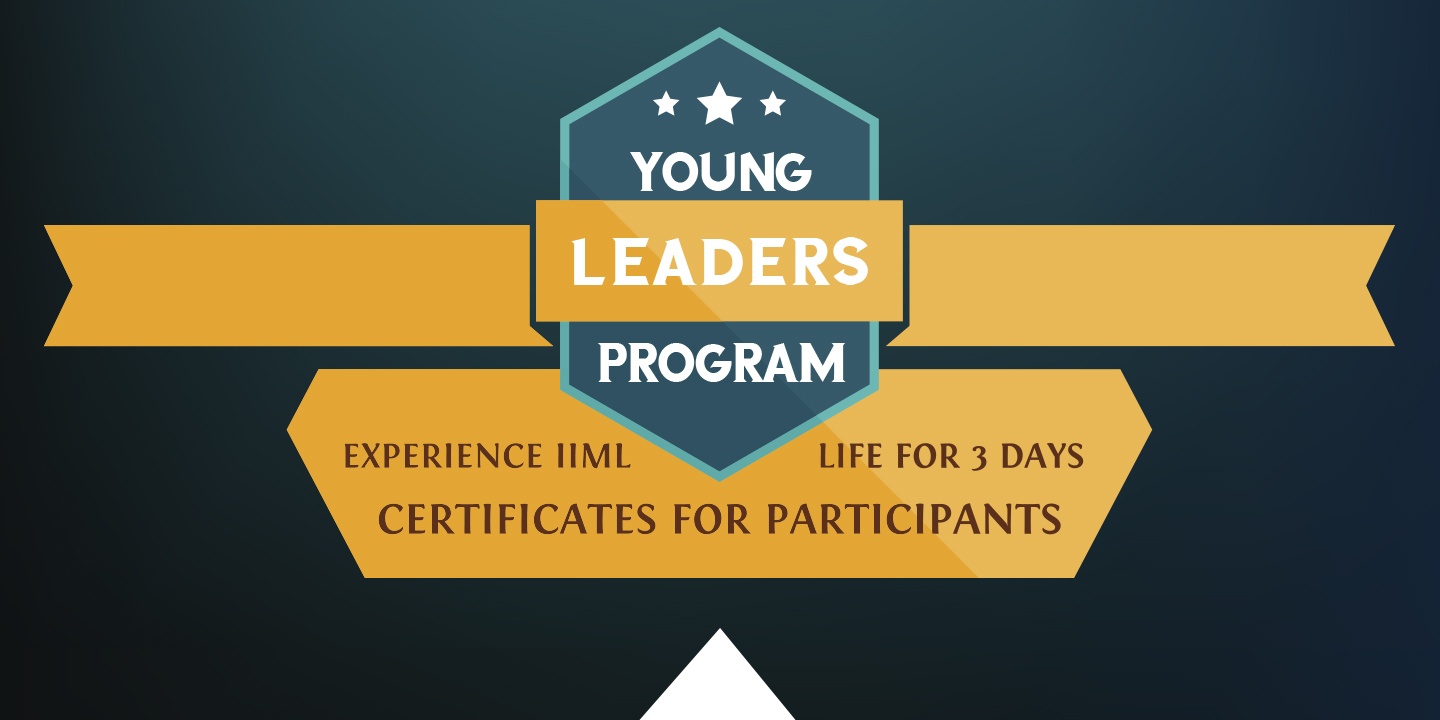 "If your actions inspire others to dream more, learn more, do more and become more, you are a leader" – John Quincy Adams
Times change. Hopes merge with realities. Realities merge into new aspirations. But one thing always remains constant - the ever-present and dire need for good leaders. No society can attain its true potential without great leaders leading the way. With the advantage of demographic dividend at the helm and a rich history of natural leaders, India is at a strategic advantage to rise to this challenge.
IIM Lucknow's Manfest-Varchasva presents Young Leaders Program, a step towards the direction of growth and able leadership for the nation. It is a three-day workshop, from 16th- 18th November 2018, seeking to broaden the horizon of today's youth through a host of engaging and interactive sessions with eminent leaders from different spheres of life. This year's session has been designed such that it will help participants hone their leadership skills and gain a fresh perspective, through interactions with leaders whose amazing journeys and diverse backgrounds are awe-inspiring.
Apart from an invaluable experience, the Young Leaders program, will also be awarding certificates for participation. Additionally, the students will have the opportunity to attend enthralling professional concerts and participate in on-the-spot events at Manfest-Varchasva 2018, as per eligibility criteria, and win spectacular prizes.
A 3 day leadership summit with key note addresses by stalwarts from various fields
Key Details
Certificates will be awarded on completion of the workshop.
Only 300 Seats Available; First Come First Serve basis.
Eligibility: Students from all undergraduate, postgraduate and doctoral institutes and working professionals across India
Accommodation to be provided to all the attendees at IIM Lucknow campus.
Registration deadline: 2300 hours, November 11, 2018
The registration for Young Leaders Program is a two-step process as mentioned below.
Registration Fee: INR 2,000
Payment of Registration Fee
Option A – Online Transaction
Electronically transfer INR 2000 to the below mentioned account:

Bank: SBI
Account number: 51102152450
Branch: Tilak Marg, Jaipur
Beneficiary Name: RUBAL MITTAL
IFSC Code: SBIN0031510

Please mention your first name and contact number in the comments section during transaction
Please note down the Transaction ID generated after completion of the payment process
Option B – Cash Deposit
Deposit INR 2000 in the below-mentioned account:

Bank: SBI
Account number: 51102152450
Branch: Tilak Marg, Jaipur
Beneficiary Name: RUBAL MITTAL
IFSC Code: SBIN0031510

Scan a copy of the Bank Challan and mail it to

This email address is being protected from spambots. You need JavaScript enabled to view it.
Option C – PayTM
Deposit INR 2000 in PayTM account of mobile number +91-8290657141 (Rubal Mittal)
Please mention your first name and contact number in the comments section during transaction
Please note down the Transaction ID generated after completion of the payment process
Option D – UPI/ Google Pay/ BHIM
Deposit INR 2000 in UPI address: mittalrubi05@oksbi (Rubal Mittal)
Please mention your first name and contact number in the comments section during transaction
Please note down the Transaction ID generated after completion of the payment process
Terms and Conditions
Registration Closed
Limited seats
Timelines
Registration deadline: 11th November 2018
Contacts
Rubal Mittal: (+91) 829 065 7141
Harsha Rayavarapu: (+91) 741 676 2337

This email address is being protected from spambots. You need JavaScript enabled to view it.